Submitted by
Rob Simmons
on
Sat, 01/05/2019 - 10:48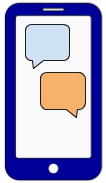 Text messaging has become more popular with many people choosing text messaging over email or phone calls. Text messages also tend to be read and responded to faster than email. How great would it be to have your business number available for texting to and from your customers?
Well, now you can!  Cozzmic is happy to announce that it now provides a service that allows you to keep your business phone number for both phone calls and texting.  Now, if someone texts your business number you can receive and respond to the messages in several ways.
All text messages are available on an online portal that you may use like instant messaging.  You can choose to have text messages sent to one or more email addresses, and replies to the email will be sent to the recipient as a text message.  These options allow you to have multiple people responding to text messages. You can also choose to have text messages sent to your cell phone as a text message, although replies will be direct to the recipient as a text from your cell phone.
You can also broadcast a text message to a group, similar to email campaigns.  This provides an easy way to send out new promotions to customers, or emergency messages to staff.
A nice advanced feature is automatic responses that can automatically send a reply based on the time of day (after hours messages) or based on the message received.  For example, try texting smsinfo to 519.756.0741 to learn more.
Note that this does not require you to have Cozzmic Communications as your phone provider but we would love to talk/text to you about that as well.